Regular price
$303.00
Sale price
$303.00
Unit price
per
Sale
Sold out
This product ships to Canada only. No US sales. For US orders, please click
HERE
The SATA HRS is our go-to sprayer for professional application of Waxoyl 120-4 in the cavities. Lightweight with higher pressure and lower capacity, this gun is exceptional at atomizing Waxoyl 120-4 to "fog" the cavities.
If the HRS gun is used regularly (approximately once a year) there is no need to clean the gun. Simply use it and put it on the shelf when done.
This high-quality gun is made by SATA in Germany. It is completely rebuildable (Part # HRSREPAIRKIT and RNWHRSR). There is typically no need to use an air regulator on this gun as it works up to 170 PSI.
Must be combined with wands to spray. 
Accepts:
K-3 wand, 64" long with 360-degree spray for applying Waxoyl 120-4 in long narrow cavities like chassis and rocker panels (P/N RNW015),
K-4 hook wand for applying Waxoyl 120-4 to the door cavities, hood, and surface spray. (P/N RNW5014)
Sold with wands as part of Wax2 and Wax3 kits.
View full details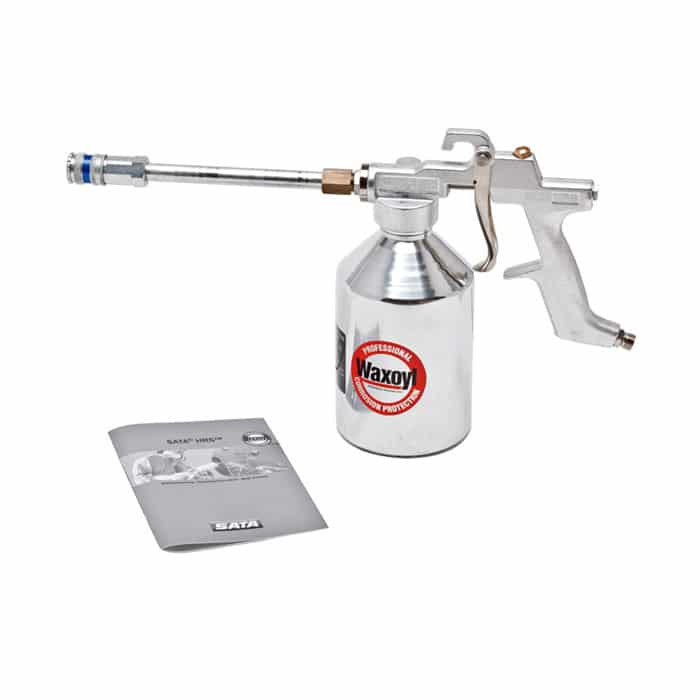 Why protect your vehicle with Waxoyl?
Trusted by leading automotive brands worldwide, with over 55 years of experience.

Shop Now

The premier way to protect vehicles and machinery from salt, corrosion and weather damage.

Shop Now